Learn more about Advertising opportunities on Piscatorial Pursuits to promote your outdoors (hunting / fishing) products or business.
A great opportunity for high-exposure, low-cost advertising with a targeted audience!
---
- Site News -
December 2, 2013 ... Officially, another Olympic Peninsula fall salmon season has come to a close with the end of November closure date behind us. Some super weather and some super fishing made for lots of sore arms and full freezers! That means it's time to switch gears and dive right into winter steelhead season.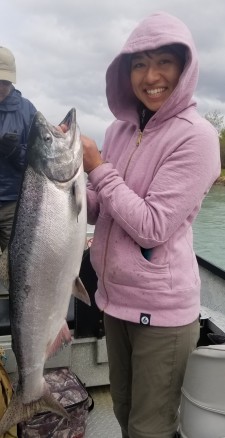 Lots of wheelbarrow loads of fish this fall! Exceptionally low conditions stacked the fish nicely for us and we voluntarily released most of the kings and took advantage of extra bonus hatchery coho in the mix and filled those smokers!
We've already had some some solid hatchery steelhead action which will continue for the next few weeks and then it will be time to turn our focus towards the latter winter / spring wild steelhead fishery with these oft-giant winter fish of the Forks, Washington area being amongst the biggest in the world!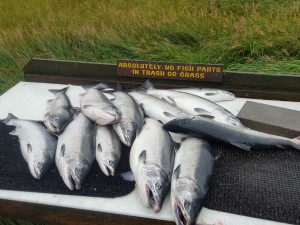 November 25 limit of Olympic Peninsula hatchery steelhead for Amber and Randy. Things are just kickin' off and we'll be chasing these and their bigger cousins later this winter all the way through the end of April!
Be sure to visit our specials page for savings on the overlap portion of these two runs as well as early bird specials on Spring Chinook dates next May!
The end of the calendar year also means it's time for the heavy booking season for Alaska's summertime fisheries.
While Alaska king returns have been down state-wide in recent years, there are still lots of solid fishing opportunities ... but it's perhaps more important than ever to make sure you embark on your fishing adventure with highly experienced guides that can often start with less-than-ideal fish numbers and still turn your trip into one to remember!
You can learn more about our Alaska fishing trips by visiting our Alaska Fishing Homepage and following the many links to there to learn about most everything we have to offer!! In addition, to help celebrate our 20th Anniversary of Alaska operations, we'll be offering some super specials from time to time through the booking season! Most of these will be one group-only specials, so make sure to act fast if one of these specials strikes your fancy!
---
Join Piscatorial Pursuits in 2014, our 20th year of making dreams come true on Alaska's Kenai Peninsula.
Alaska Salmon, Halibut & Trout Fishing Trips & Packages from May 15 to September 1.
- Kenai, Kasilof Rivers - Homer, Seward, Ninilchik saltwater - Western Cook Inlet fly outs -
For two decades, we've offered both local anglers as well as visitors to Alaska unsurpassed service & expertise fishing one the world's greatest salmon & halibut sportfishing destinations: Alaska's Kenai Peninsula.
Join Bob, the Kasilof River's longest full-time guide, for a day or two of driftboat-based salmon fishing or experience one of the area's other numerous fisheries with one the Kenai Peninsula's most experienced team of salmon, halibut, and trout fishing guides.
You can choose from single-day fishing charters or a fishing / lodging packages. Our Alaska fishing season runs from mid-May through the end of August.
Our guided Alaska fishing trips / packages include Kenai & Kasilof River king salmon & silver salmon, Deep Creek halibut fishing,  Seward combo charters, trophy trout, fly-outs, glacier cruises, razor clamming & more.
We offer our guests a number of choices for waterfront lodging too. You can choose from both cabins or lodge-style accommodations, most with waterfront including: lakefront, nestled along the banks of the Kenai or Kasilof Rivers, or overlooking Cook Inlet. There are cabin choices ranging from small and intimate (perfect for couples) ranging to large, exquisite hand-crafted log cabins that will sleep up to ten!
We take pride in providing the highest personal service: starting with honest, no-hassle trip planning -- all the way through to helping you and your catch of Alaskan salmon & halibut make it home safely!
Washington Fall Salmon, Winter Steelhead, and Spring Chinook Fishing
- Olympic Peninsula, Washington Steelhead and Salmon Fishing Guides -
Join Bob on a float trip on one of the many rivers around Forks on Washington's renowned Olympic Peninsula for king salmon to 60 pounds, silver (coho) salmon to 25, and the world's largest strains of winter-run steelhead like this one above. A trip with Bob offers you over 20 years of guiding experience while fishing some of the lower 48's most productive streams: Hoh, Sol Duc, Bogachiel, and Calawah Rivers.
We cater to both conventional and fly anglers and you can even do both during the course of a single day if you wish. Fishing techniques are typically very hands-on and help you to not only find lots of fish on the day of your trip but will improve your skills as an angler as well.
We offer guests the opportunity to fish from either a heated driftboat or inflatable Puma raft so we have to flexibility to fish most any section of river at any water level. Our Washington salmon & steelhead fishing season runs from October through early May. There are several distinct fishery seasons that will appeal to all!
This site, pages, and images designed by and copyright material of Bob Ball, Bob's Piscatorial Pursuits - Alaska and Washington Steelhead, Salmon, and Halibut Fishing Guides / Charters - Forks, Washington and Soldotna, Alaska, USA. Encounter any problems?? If so, please Email us.